MY JOURNAL FOR TUESDAY – JANUARY 18, 2021
NEWS, BREAKOUTS, MOMENTUM PLAYS & BOTTOMS
Following Technical Clues to Help Manage Your Trades
Managing your trades is a constant job for a good trader. You can use technical clues to help you make optimal trading decisions. After a stock has drifted sideways to down, a few key technical events happen:
The stock touches an important moving average. Some of those are the 10-week moving average, 20-week moving average, and 40-week moving average. Expect bounces off some support.
The stock goes low enough to get oversold readings on technical indicators, such as the relative strength index or RSI (30 or 40) or stochastics below 20. These are typical buy areas.
Trend lines are broken. Look for ways to hold strong stocks that may be consolidating. Selling some on a break can lock in profits.
Price breaks below where the price has bounced up from before. After multiple attempts to hold above the previous lows, a lower low can be a clue that the support is fading. Rising stocks don't make lower lows. One low might be an exception for a few weeks, but uptrends have a series of rising lows.
The stock starts to make new 52-week lows.
The chart below shows Amazon (AMZN), which is one of the world's juggernaut companies. By dominating one particular space so well, Amazon has been crushing everyone in its path. But Amazon investors have ridden some massive swings.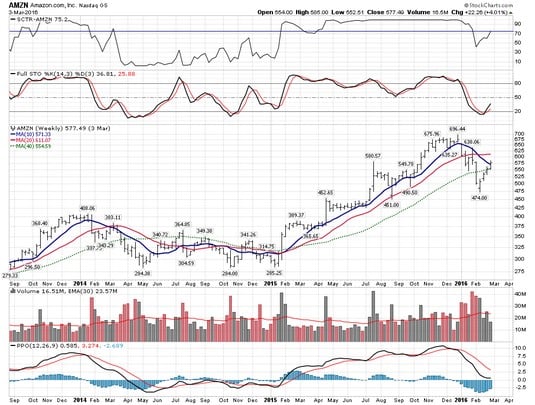 For example, in 2014 the Federal Reserve had lots of stimulus going on to help the economy heal from the financial crisis. The market was roaring higher until the oil business struggled in late 2014. But Amazon was a dog all year, after years of running higher. The chart above shows a few big things:
Moving averages: As an investor, what will you hold through? Working from the left to the right, Amazon was finding support at the 10-week moving average. As 2014 started, Amazon had a big down week that wiped out about ten weeks of price gains. The stock dropped into May, losing $125/share before finding support at $285, which was the January high of 2013.
Indicators bounce from oversold levels: The stock continued to wobble and make lower highs all year. The support level of $284 held, but investors holding the stock throughout the year were staring at losses for the year of 30 percent. Was Amazon's long-term top finally here?
Trend lines: Use previous run-ups in the stock price to find a similar slope for trend lines. A short, sudden burst is not a good trend line slope, but one with a reasonable angle (45 degrees or so) is a better place to watch for support.
Price support and new 52-week lows: All the moving averages collapsed together in 2014, and Amazon struggled. Heading into 2015, Amazon risked gapping to new 52-week lows. Great stocks make higher 52-week highs, not lower 52-week lows. On the January 2015 earnings call, the stock roared! It broke above all three moving averages; the moving averages were in a bullish alignment, with the short-, then medium-, and then long-term averages above each other; and Amazon more than doubled in price in one year. Price support held!
Explore Greg Schnell Special Pricing Save $363.00! – LEARN MORE

BREAKOUTS, MOMENTUM PLAYS, & BOTTOMS
BEI/UN.TO – Boardwalk Equities, Inc.
FIL.TO – Filo Mining Corp.


FOM.V – Foran Mining Corp.
NTR.TO – Nutrien Ltd.
PSLV.TO – Sprott Physical Silver Trust
RAY/A.TO – Stingray Digital Group Inc.
MOMENTUM ALERT SIGNALS 📡
SetYourStop Workspace
The main focus of the SetYourStop Slack workspace is the momentum scanner that was developed to trace abnormal volatility in the Canadian equity market.
Our proprietary momentum scan system searches for abnormal volatility which flags the urgency of buyers. It was designed to signal the potential of momentum coming into an underlying name or sector. The charts issued are to be used as indicators only, not a trigger to buy or sell.– Disclaimer
Once a chart is received, systematic rules are to be used, implemented by the individual (SetYourStop nor ospreystrategic.org holds No Responsibility for one's actions as the charts given on SetYourStop and ospreystrategic.org are to be used as indicators only and not a trigger to buy or sell) to define and manage risk. Stop-loss orders are an important tool to negate any false signal. The goal is to let winners run while using trailing stop-loss orders to preserve gains.
Let Us Do Your Homework (With Full Website Access):
Weekly GregSchnell newsletter that will feature his top ten charts of the week.
Weekly GregSchnell video which summarizes the major moves in the global markets.
Vital GregSchnell that can be quickly look through with his top 30 charts at any given time.
GregSchnell Monthly conference call that is recorded and saved.
The Daily Setup watchlist of stocks that are signaling the potential of upside momentum.
The daily SetYourStop blog (News, Breakouts, Momentum Plays and Bottoms).
The SetYourStop Workspace.
Much more!
THIS IS NOT A STOCK PICKING SERVICE. THE WORKSPACE HAS BECOME MORE LIKE A COFFEE SHOP OF CLOSE FRIENDS SHARING IDEAS.

Most Traders Tend to Overthink. It's Time to Remove Noise, Remove Emotion, & Learn How to Define Your Risk. Become a Robot!

Definition: Systematic trading (also known as mechanical trading) is a way of defining trade goals, risk controls and rules that can make trading decisions in a methodical way.
Whether you're a trend follower, swing trader or penny scalper, the SetYourStop workspace will provide you with trading ideas.
We discuss charts showing the potential of momentum as they appear on our radar with the goal of becoming the most interactive community in Canada.
Join the SetYourStop crew in the Slack workspace today.
The workspace is an exclusive interactive live community of traders ranging from beginners with small portfolios to seasoned veterans placing large bets. It's an ongoing source of trading ideas and market dialogue mixed with education. The SetYourStop crew regularly joins the conversation to give feedback and share our trading ideas with the community.
Please read before subscribing: I'm Not Your Guru
Choose the Subscription Plan that works for you:
ALL PRICES ARE IN US DOLLARS
ALL PRICES ARE IN US DOLLARS
ALL PRICES ARE IN US DOLLARS
Trading Room invite will be sent to the email attached to your account within 24hrs
Contact me at: