MY JOURNAL FOR FRIDAY – DECEMBER 17, 2022
NEWS, BREAKOUTS, MOMENTUM PLAYS & BOTTOMS
The Canadian Technician
Can Energy Bounce?
Greg Schnell | December 16, 2022 at 09:30 PM
The oil sector has pulled back roughly 20% over the last 4 weeks. It's been an aggressive move down, and I was interested to hear that Mark Fisher thinks the bottom is in for oil. MBF trading is a big deal. He is a brilliant man, so I definitely want to check my work.
When I see the crude oil chart, it is on what, for me, is a sell signal. But the price action this week was pretty strong compared to the rest of the market. The relative strength downtrend in purple did try to tick up this week. The Full Sto is turning up onto a buy signal.
Price is making an inside bar, which I like to think of as indecision. If we can start to make higher highs here, that would be a textbook bounce off the uptrend. The PPO is at one of the most interesting points where I like to buy. When it breaks above this long 6-month PPO downtrend, I would rather be long.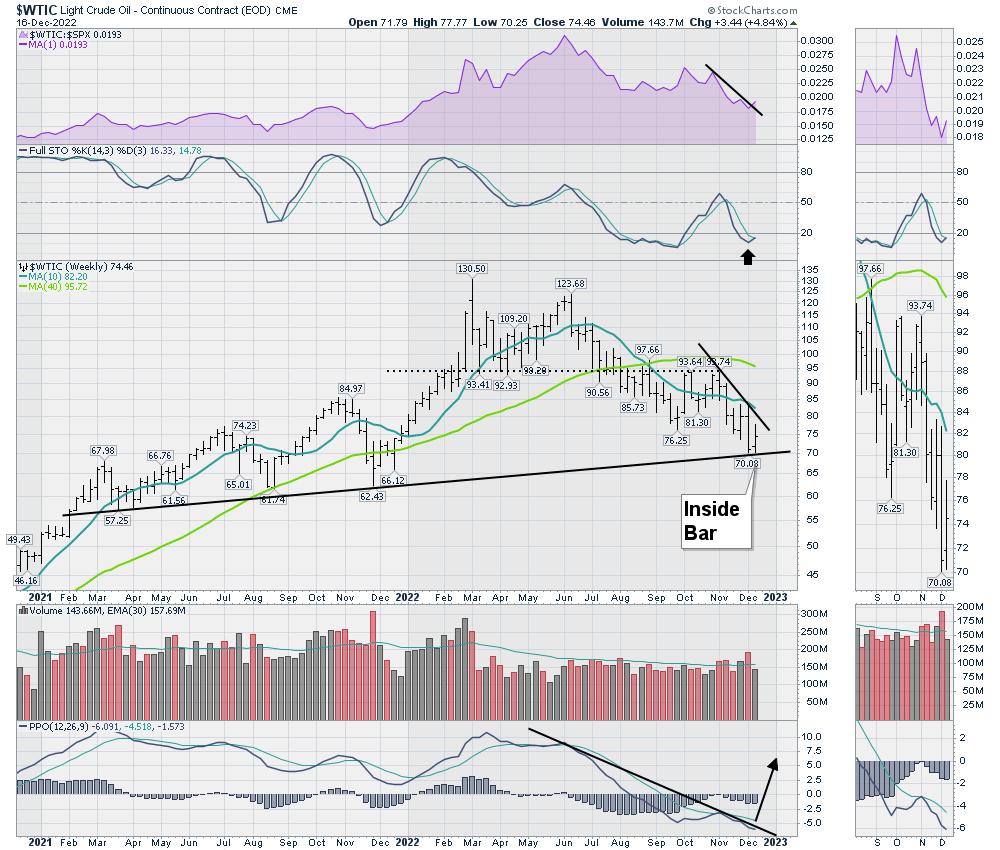 $CRB
When I look at the $CRB chart, it is broken. But if it was to reverse higher here, it would be a false break down. When a breakdown reverses, that is very bullish.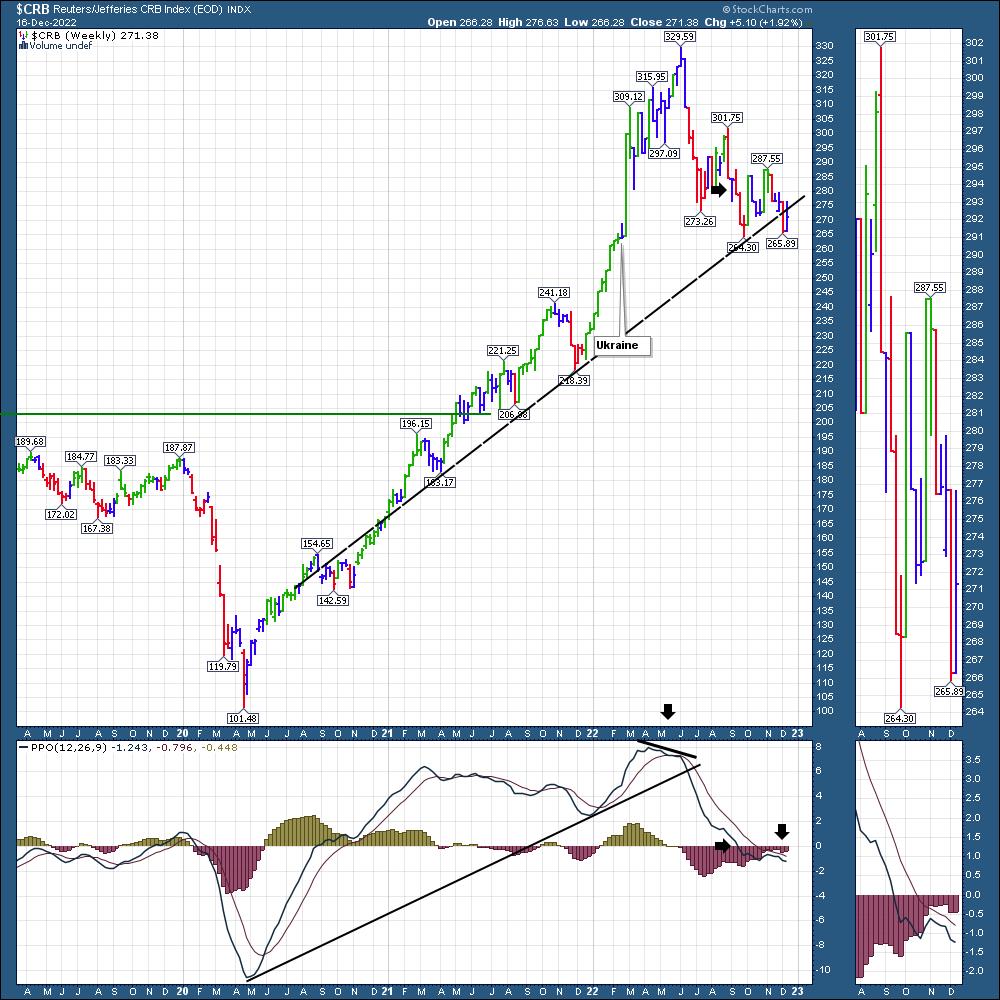 I like to buy commodities near the lows. If these charts can improve, that would be bullish. The stock market last year dropped through the first quarter, but the oil markets kept rallying. The real question is, if that same market action is to be endured, whether oil can rally in the face of the slow economy.
XOP
The Oil Exploration and Production ETF is hanging on the trend line. Right now, everything on the chart is pointed down. The fast move from $160 to $130 could be a normal pullback in an uptrend, but, if the price does not hold this trend, it can move down extremely fast. Last December, the indicators were in a similar position, and they all started to turn up from there on a nice rally.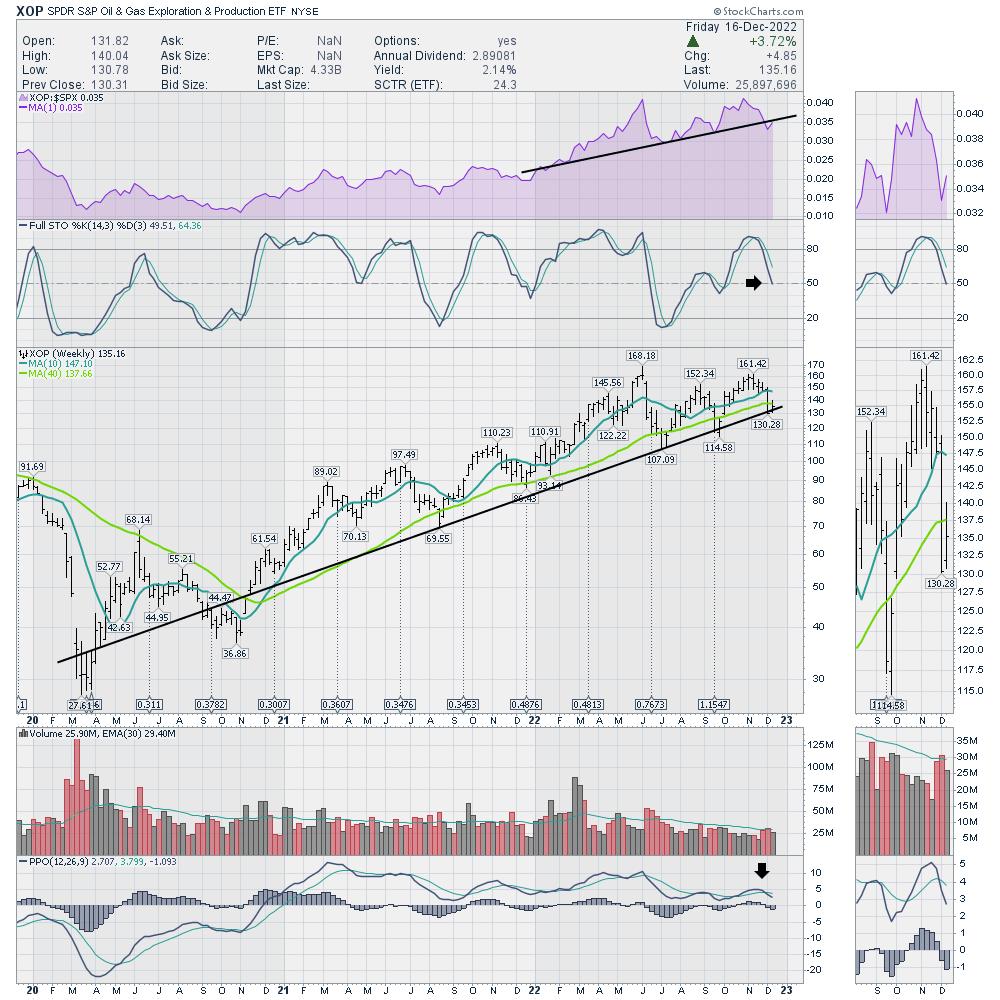 With the overall stock market failing, it really is a tough call. But, for investors that like to buy at the trend line with a close stop, this looks like a nice location. I think the close stop is critical. If this chart continued to make lower lows, I would not be looking at it. It is the indecision at the trend line that suggests this might be ready to turn higher.
Welcome to Osprey Strategic
Nearly a Decade of Experience in the Financial Markets
Greg Schnell, CMT, MFTA, is a Senior Technical Analyst at StockCharts.com specializing in intermarket and commodities analysis. He is also the co-author of Stock Charts For Dummies (Wiley, 2018). Based in Calgary, Greg is a board member of the Canadian Society of Technical Analysts (CSTA) and recent winner of the CSTA's Technical Analyst of the Year. He is an active member of both the CMT Association and the International Federation of Technical Analysts.
Explore Greg Schnell Special Pricing Save $363.00! – LEARN MORE
BREAKOUTS, MOMENTUM PLAYS, & BOTTOMS
ALS.TO – Altius Minerals Corp.

AYA.TO – Aya Gold & Silver Inc.

ENGH.TO – Enghouse Systems Ltd.

ERO.TO – Ero Copper Corporation

FIL.TO – Filo Mining Corp.

KRR.TO – Karora Resources Inc.

MAG.TO – Mag Silver Corp.

MDI.TO – Major Drilling Group Intl, Inc.

TECK/B.TO – Teck Resources Ltd.
MOMENTUM ALERT SIGNALS
SetYourStop Workspace
The main focus of the SetYourStop Slack workspace is the momentum scanner that was developed to trace abnormal volatility in the Canadian equity market.
Our proprietary momentum scan system searches for abnormal volatility which flags the urgency of buyers. It was designed to signal the potential of momentum coming into an underlying name or sector. The charts issued are to be used as indicators only, not a trigger to buy or sell.– Disclaimer
Once a chart is received, systematic rules are to be used, implemented by the individual (SetYourStop nor ospreystrategic.org holds No Responsibility for one's actions as the charts given on SetYourStop and ospreystrategic.org are to be used as indicators only and not a trigger to buy or sell) to define and manage risk. Stop-loss orders are an important tool to negate any false signal. The goal is to let winners run while using trailing stop-loss orders to preserve gains.
Let Us Do Your Homework (With Full Website Access):
Weekly GregSchnell newsletter that will feature his top ten charts of the week.
Weekly GregSchnell video which summarizes the major moves in the global markets.
Vital GregSchnell that can be quickly look through with his top 30 charts at any given time.
GregSchnell Monthly conference call that is recorded and saved.
The Daily Setup watchlist of stocks that are signaling the potential of upside momentum.
The daily SetYourStop blog (News, Breakouts, Momentum Plays and Bottoms).
The SetYourStop Workspace.
Much more!
THIS IS NOT A STOCK PICKING SERVICE. THE WORKSPACE HAS BECOME MORE LIKE A COFFEE SHOP OF CLOSE FRIENDS SHARING IDEAS.

Most Traders Tend to Overthink. It's Time to Remove Noise, Remove Emotion, & Learn How to Define Your Risk. Become a Robot!

Definition: Systematic trading (also known as mechanical trading) is a way of defining trade goals, risk controls and rules that can make trading decisions in a methodical way.
Whether you're a trend follower, swing trader or penny scalper, the SetYourStop workspace will provide you with trading ideas.
We discuss charts showing the potential of momentum as they appear on our radar with the goal of becoming the most interactive community in Canada.
Join the SetYourStop crew in the Slack workspace today.
The workspace is an exclusive interactive live community of traders ranging from beginners with small portfolios to seasoned veterans placing large bets. It's an ongoing source of trading ideas and market dialogue mixed with education. The SetYourStop crew regularly joins the conversation to give feedback and share our trading ideas with the community.
Please read before subscribing: I'm Not Your Guru
Choose the Subscription Plan that works for you:
Subscribe for our 1-month trial today and experience the benefits of learning from an Award-Winning Technical Analyst for 30 days.
Our monthly plan is just that, a no-term and no-commitment subscription with flexibility and all the benefits.
Subscribe to our quarterly plan, pay once and enjoy all the benefits our membership offers
for 90 days.
Save money while experiencing the full benefit of our membership for 365 days of unbeatable content.
Trading Room invite will be sent to the email attached to your account within 24hrs
Contact me at: